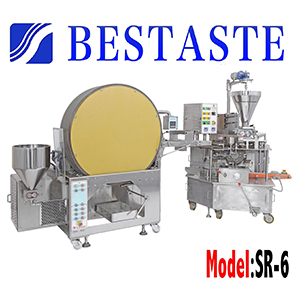 ● Model : SR-6
● Length of egg roll : 70 mm - 120 mm (Before frozen)
● Weight of egg roll : 20 gram - 60 gram
● Size of egg roll pastry : 127 mm - 190 mm
● Capacity : 2400 pcs/ hr
● The egg roll macking machine can be customized based on your requirement.
Specifications

● Egg Roll Making Machine including :
A. Pastry baking machine: For produce egg roll pastry.
B. Egg roll wrapping machine: For put the filling on the pastry and wrap egg rolls.
Used Space :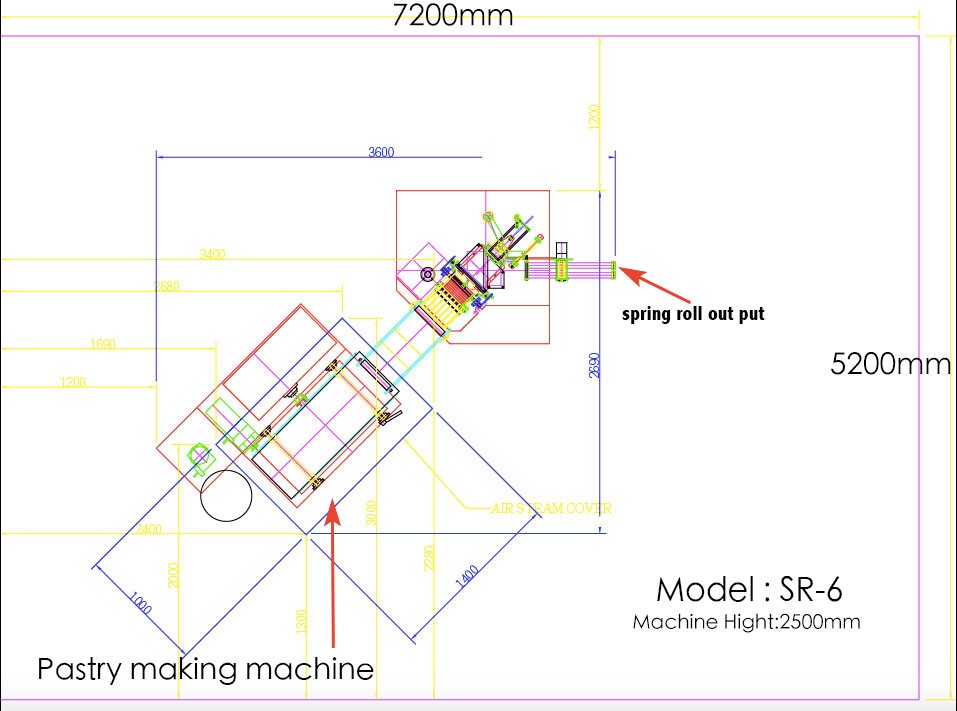 Video
● Egg roll machine / Egg roll production line :
● Egg roll making machine :
● Egg roll making machine
 (Round egg roll) :
Introduction to Egg Roll Making Machine

Egg roll making machine 's Features

Produces more crisp egg roll
Rough surface or Smooth surface of drum can choose.
● Rough surface of the egg roll has dense pores and more crispy after fired.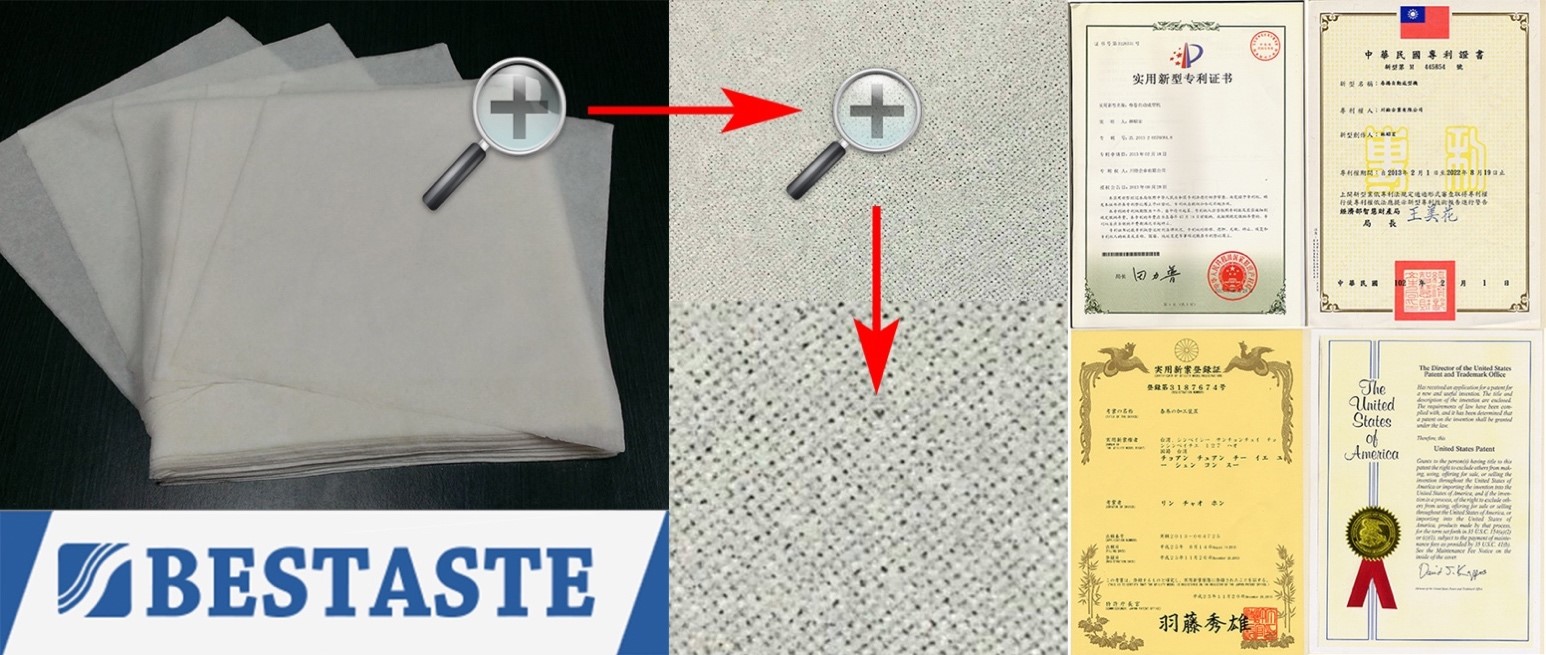 ● Smooth surface of the egg roll can produce thinnest thickness pastry 0.2 mm.
● With international patents.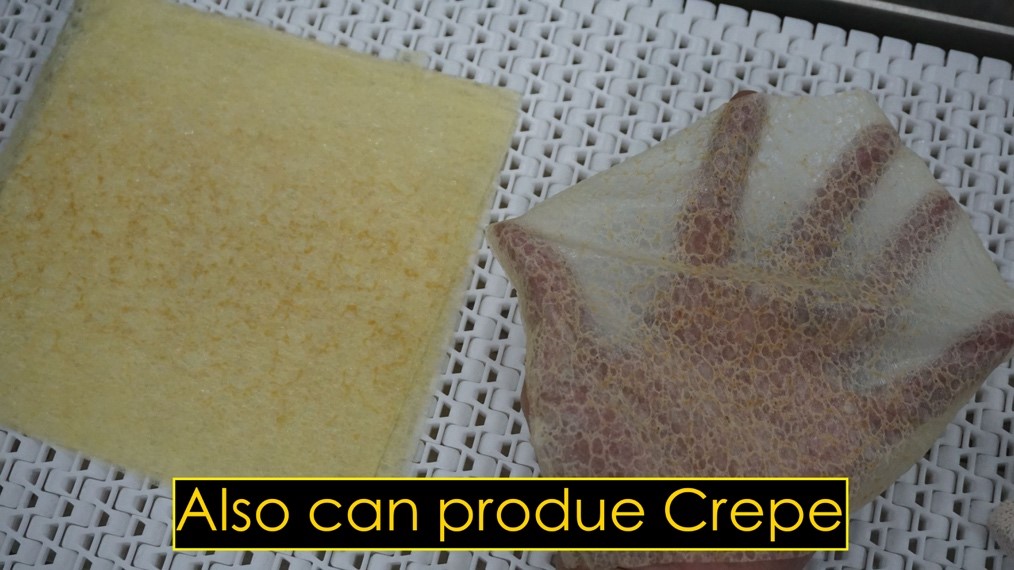 Produce more flexible egg roll
● If egg roll doesn't have flexibility, egg roll will crack when frozen.




Increase egg roll machine use life

● Increase Baking drum life 200%
● Use life can be more than 20 years.
● Increase the electric heater life 500%
(If not use specially process to make, about 3 - 6 months the electric heating piece will to be damage.)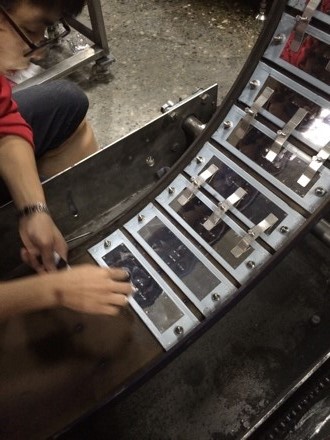 BESTASTE's machines meet U.S.A FDA standard
● BESTASTE's machine frame is 100% of the use of 5 mm and 10 mm thick stainless steel plate to produce.
● Other Manufacturers machine frame uses the medium-carbon steel (S45C), and then wrapped in a layer of stainless steel sheet on the outside, but which will still rust.
Or use too thin stainless steel plate, it's easy to deformation when used 6 months. (Not meet the U.S.A FDA standard.)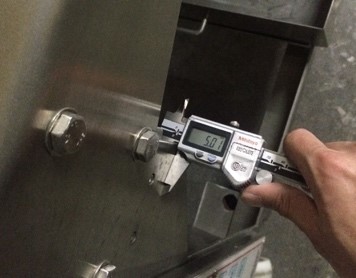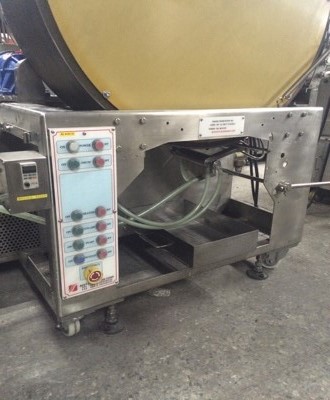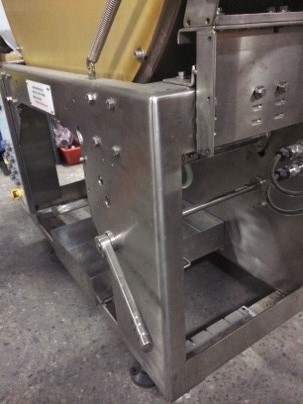 Have energy-saving effect : Heat conduct to surface of drum efficiency
● Why saving?
→If heat is not conduct efficiency, heater will continuous supply power, and easily damaged.
● We use special insulation board, the heat is not lost and have energy-saving effect, the outer cover will not be broken.
(Not bakelite board, bakelite board will be broken.)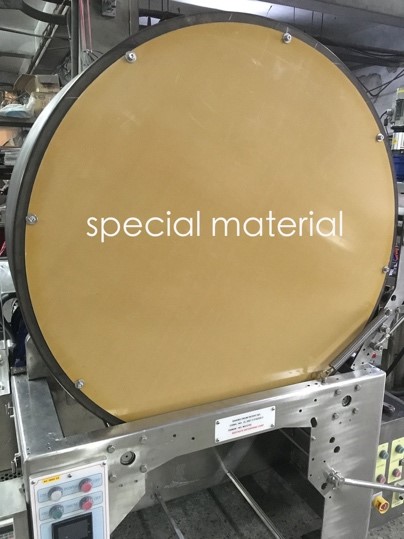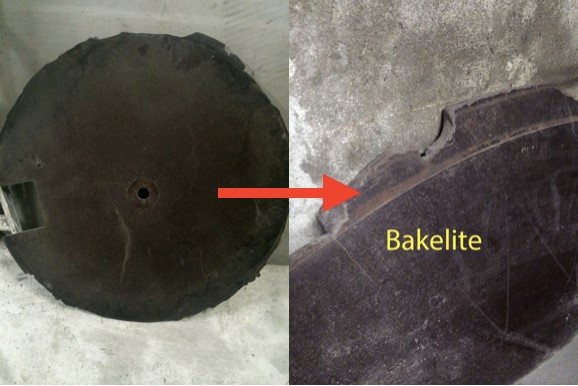 Egg Roll Making Machine is high-safety and the failure rate is low

● Inside the baking drum are used high temperature resistant material.
● Use hydraulic clamp to fixed to ensure safety.
● Many manufacturers use nickel-plated copper cables to reduce costs. the connection between the cables and terminals may easily break after long-time use.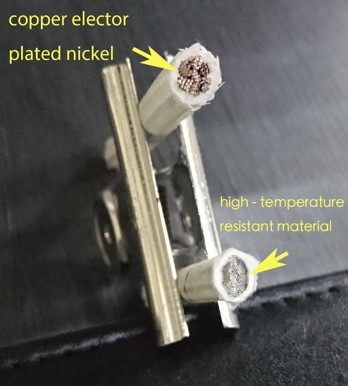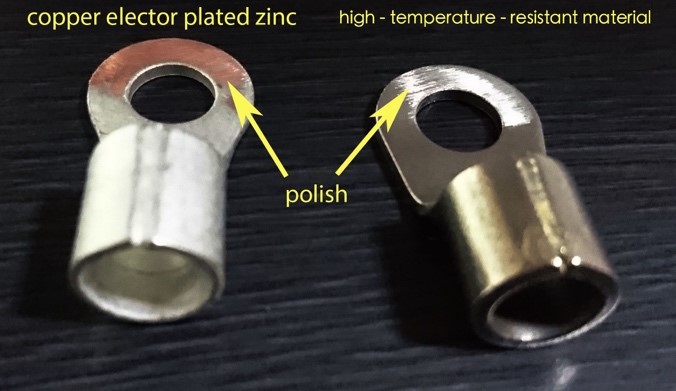 High-quality and renowned machine parts : BESTASTE are using international brands to ensure quality
● Motor use German brand : SIEMENS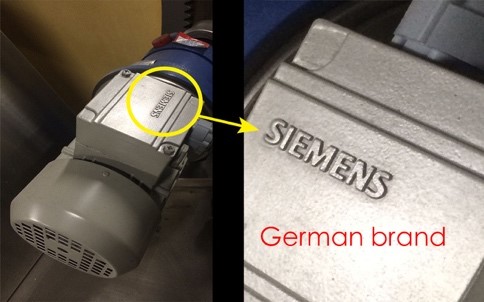 ● Electronic components use the Japanese brand :
Fuji Electric (Earth Leakage Circuit Breaker、solenoid valve.)
Omron (Temperature Controller)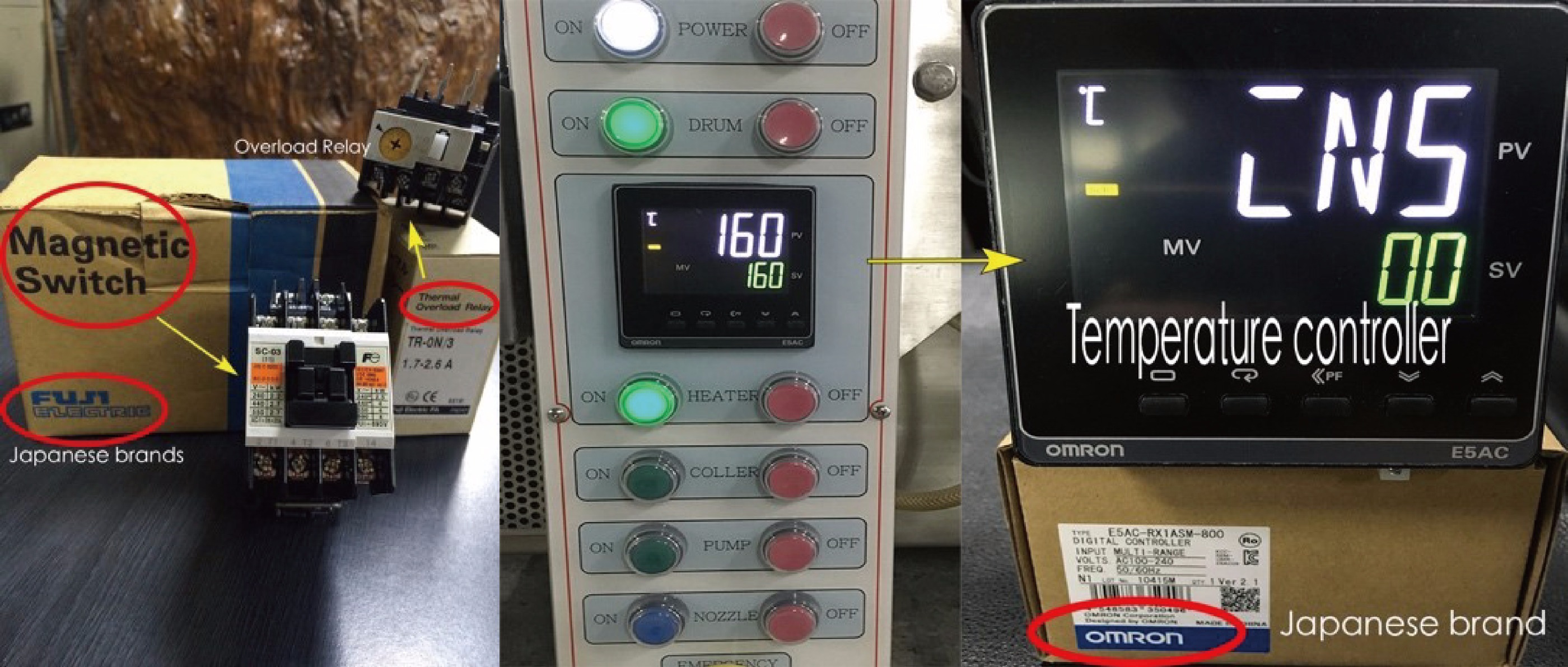 Easy to Repair
● Use General Electricity Distribution System : General electricians have a way to deal with, maintenance is simple.
● Electronic parts are easily for purchase.
● Not to use PLC : General electricians can't have a way to deal with.


Easy to operate : Any control with numerical display
● The variable frequency drive (VFD) shown in the figure is used to control the speed of the baking drum, batter (flour) outlet, and cooling conveyor.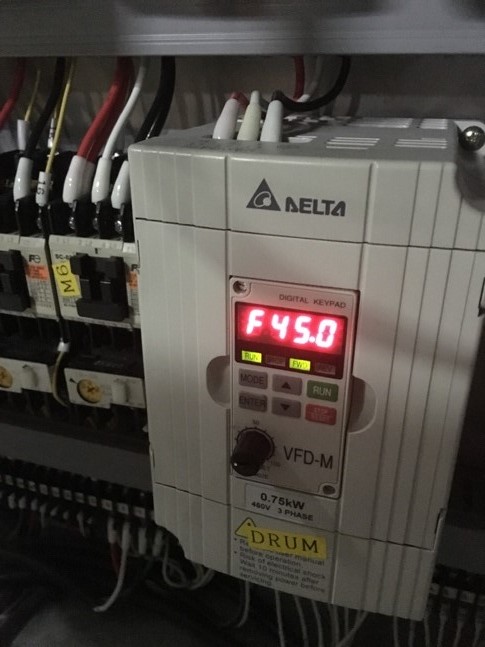 Egg roll making machine 's Features

The shape of egg roll
We have round egg roll making machine or flat egg roll making machine two model to offer customer to choose. (Other egg roll macking machine, only can do round and tight egg rolls.)

● Round shape of egg roll : Egg rolls can be round and tight, the taste is not crisp but more solid feeling. And the appearance is beautiful.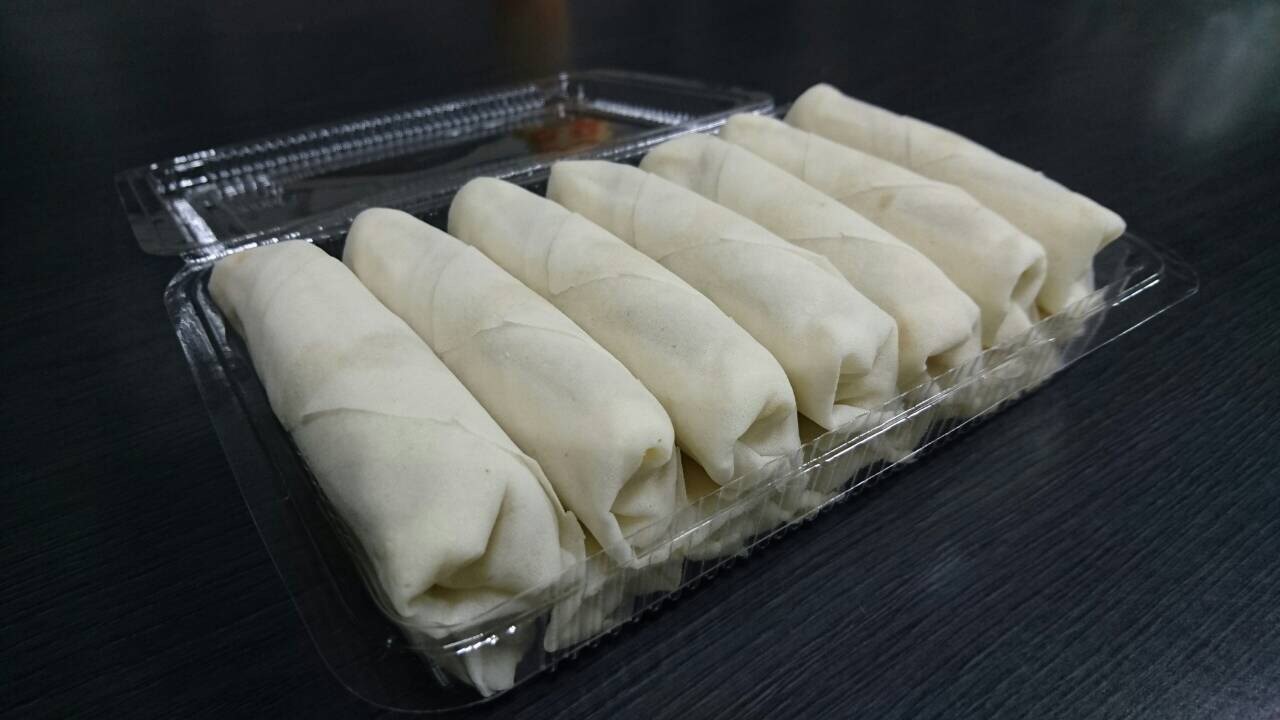 ● Flat shape of egg roll : Flat egg rolls, the taste is more crisp than the round egg rolls, and the machine out of the crisp feeling, is difficult to produce by hand.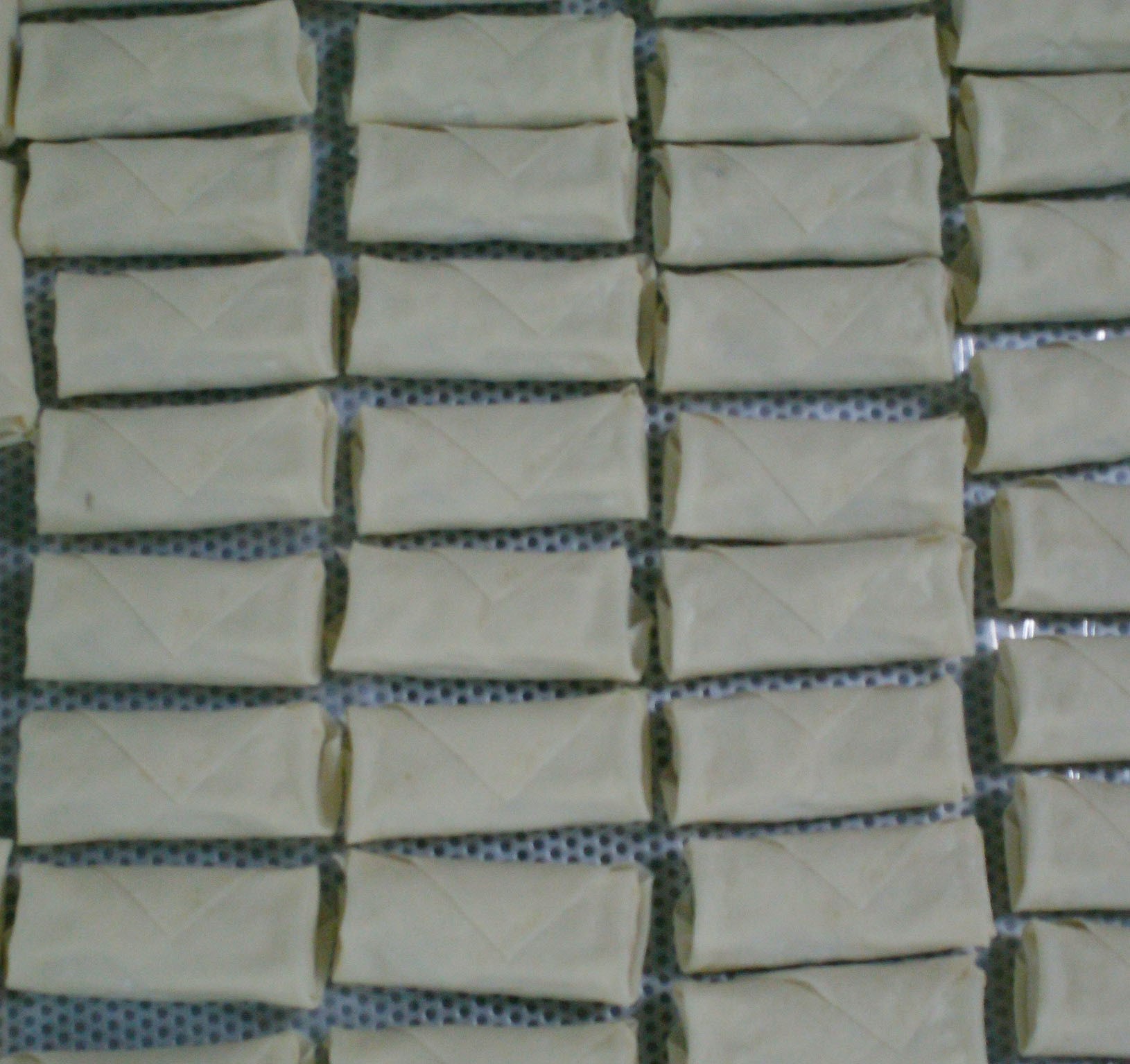 The yield rate of the production line is high up to 999 ‰
● The design of the machine is uses the mechanical movement to achieve the composition of the wrap egg rolls, not use many electronic parts to complete.
● Our egg roll making machine all of the mechanical movements are using the same motor,
● Each action is continuous without mistake; the error rate can be within 1 ‰ in a long time work.
● And other egg roll machine (We called that is type of conveyor belt of egg roll macking machine.), is composed of many pneumatic cylinders and sensers,the conveyor belt will be contaminated with oil, will cause the failure rate will be more and more, or can not scroll egg rolls in work to long time.
The filling system is different
● Filling system and the action of the package egg rolls are mandatory, the location of fillings fixed in the same position in the egg roll pastry will not be biased, if that deviation, the package out of the egg roll shape will be different.
● Use a good filling system, the weight of each egg rolls within ± 5%.
● Egg rolls of the stuffing and the egg roll contains oil, when egg roll macking machine start after a long time, the oil will be stick to the machine.
The type of conveyor belt of egg roll macking machine, will be mistake when the oil is stick to the conveyor belt. And our machine is using a mandatory action, even if there have oil stick to the machine will not mistake.
So when the customer comes to our company to test the machine, we hope that when the guests in the comparison machine must be a long time to test.
You must test machine be a long time before you can compare the advantages and disadvantages of the machine.
● BESTASTE's egg roll making machine, regardless of the egg roll of the soft, hard, thick or thin can be successfully produced.
but the type of conveyor belt of egg roll macking machine, the skin must be soft, thick to match the machine can be produce.
egg roll produced thick and soft, egg roll will be crack when frozen for a long time. (because there is no flexibility.)
and the skin is too thick also affect the taste.


Other Advantages
● Can be washed directly with water.
● Egg roll making machine and egg roll machine is the same, are 100% stainless steel (SUS 304) production, internal parts are also, do not worry they rust.

● Low failure rate : Water vapor can cause damage to electronic parts. Our egg roll macking machine uses a motor to complete wrapping egg rolls, will not have this problem.
● The machine area is smaller than the type of conveyor belt of egg roll macking machine.
Automatic egg roll making machine production processing
1. Pour the batter into the egg roll making machine.
2. Wait for the egg roll to produce, and take the egg roll pastry to the automatic egg roll making machine.
3. Automatic egg roll making machine can automatically take the pastry to the machine, and cut the size of customer needs.
4. Then put the filling on the pastry, then the semi-finished egg rolls sent to the machine to wrap egg roll folded and rolled.
5. After rolled, then put out of the egg rolls.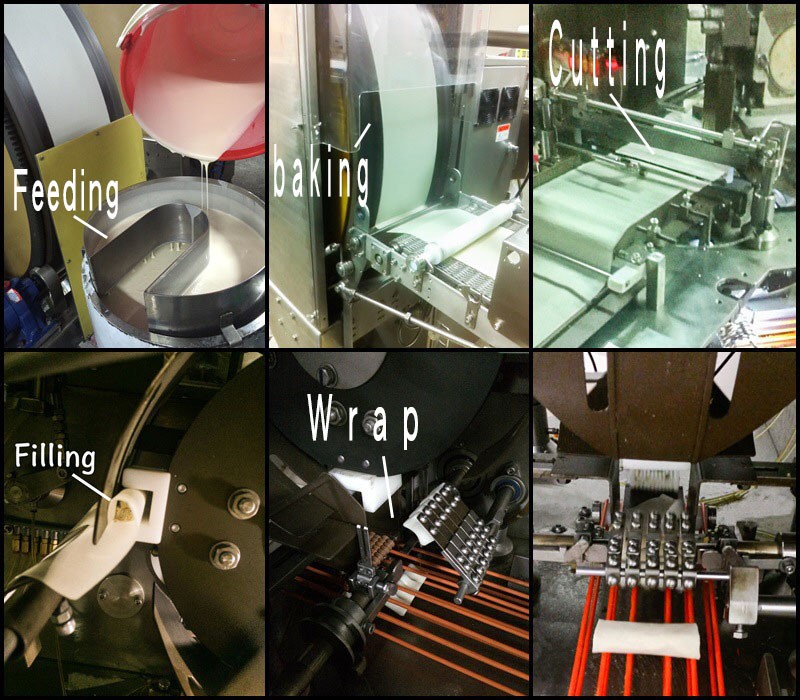 BESTASTE Features


Most professional
● BESTASTE focus on egg roll making machine and egg roll making machine to research.
● BESTASTE only sell relevant machines in egg roll machine and egg roll wrapper machine.
Most experienced
● BESTASTE has 37 years of experience in using own machines.
● BESTASTE produce egg roll sold in Taiwan for 37 years. (Other machinery manufacturers do not have the experience.)
● Customers repurchase rate 100%.


Most complete equipment
● We have egg roll production line to produce egg roll and wholesale in Taiwan.
● Welcome to visit at any time.

Most high quality
● We not only care about the quality of egg roll wrapper machine, but also care about the egg roll wrapper making machine to produce the high quality of egg roll and the durability of the machine.
● BESTASTE's products Meet the CE & FDA & CSA certification.